Steel Cyclone is a season 1 combatant of RCL.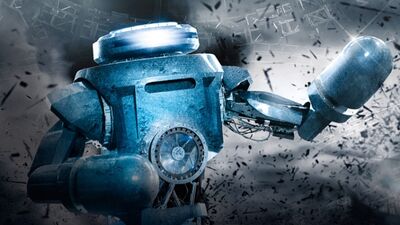 Biography
Edit
Steel Cyclone is sleek and deadly.  The shell is 18-gauge steel with a high-quality automotive finish.  The circular head houses a camera and high intensity light that scans side to side.  The low profile head makes Steel Cyclone the shortest of the fighting robots at just over seven feet tall.
Strengths
Edit
Torpedo fists with hemispherical striking surface
Low profile head and torso
Weaknesses
Edit
Medium armor crumple zone
ROBO-JOCKEY
Name: Bayano Kamani
Age: 32
Occupation: Olympic athlete/coach
Hometown: Houston, TX
Residence: Oakland, CA
If there's one thing Bayano knows, it's competition. The Houston-raised athlete is a two-time Olympian – he represented Panama at the 2004 Athens and 2008 Beijing Olympic Games – and the current South America 400 meter hurdles record holder. At Baylor University, he was a four-time NCAA Champion and a 12-time NCAA All-American athlete. Nowadays, Bayano coaches teens at an Oakland high school and is a literary junkie. He's a huge fan of robotics and doesn't let anything stand in his way when there's a prize on the line – that's when the fierce competitor comes out. 
ROBO-TECH
Name: Dr. George Kirkman
Age: 52
Occupation: Owner of Rolling Robots
Hometown: Greenlawn, NY
Residence: Palos Verdes Estates, CA
George calls himself the "Dr. of Robots" for good reason – after graduating from Georgia Institute of Technology, he got a PhD in Electrical Engineering from University of Southern California and is now the owner and operator of Rolling Robots, an interactive robot building experience that aims to get kids excited about technology through building their own robots and battling them in a robot arena. George lives by the motto "Never panic" no matter what the situation is and likes to be in full control of life and surroundings. 
Out of all the robots so far, Steel Cyclone is the shortest.
He resembles Mega Man 2 boss Air Man, as both are blue and have a fan on their torso.
Despite his blunt fists, he was able to cut Thunder Skull in half