Welcome to the Robot Combat League Wiki
Edit
Robot Combat League Wiki is a RCL wiki that anyone can edit, from die-hard fans to robotics maniacs and from fighting fanatics to 
About RCL
Edit
Robot Combat League is a robot combat show unlike any other. Hosted by WWE superstar Chris Jerhico, the show features unique robots, awesome battles, and... uhh... arrogance? What happens when a fighter's spirit meets COLD HARD STEEL? Your answer: SUPREME AWESOMENESS!
Crash Claims RCL Title
Edit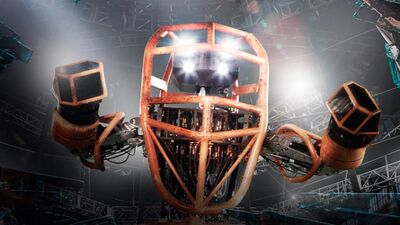 Despite finishing last in the first Power-Up Challenge, Amber and Dave Shinsel, Team Crash, the last place team stuns the world by beating eighth-ranked Team Steampunk to win the RCL chamionship. Amber and Dave Shinsel will help Team Steampunk's robo-jockey Ashley Nunes, showing a bond that the been formed. From the start, Crash felt like the runt of the litter. Then Team Crash proved everyone wrong by beating the top seed Steel Cyclone, then Brimstone and surviving three rounds with the robot slicer, Scorpio. The suprising 12th seed survived the most toughest opponents. 
Road to RCL Glory
Edit
| Round | Opponent | Result |
| --- | --- | --- |
| Preliminary Round | Steel Cyclone | Steel Cyclone crumpled in Round 2 |
| Quarterfinals | Brimstone | Brimstone crumpled in Round 3 |
| Semifinals | Scorpio | Judges Score |
| Championship | Steampunk | Won in Best of 5 3-2 (Won Rounds 1,2 & 5) |
Latest activity
Edit