Robo Hammer is a season 1 combatant of RCL.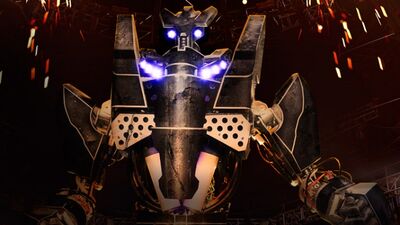 Biography
Edit
Robo Hammer is made from welded steel and reclaimed parts. Unlike that of many of the other machines, Robo Hammer's skin includes hoses and other visual mechanical structures that add depth to its frame.
ROBO-JOCKEY
Name: Amanda Lucas
Age: 31
Occupation: Professional MMA Fighter
Hometown: San Francisco, CA 
Residence: Las Vegas, NV
Amanda Lucas is the daughter of the legendary George Lucas and Academy-Award winning editor, Marcia Lucas. Amanda has found her own success as a professional champion MMA (mixed martial arts) fighter. She reigns as the Women's Open weight Champion for the Japan-based MMA organization, Deep. Amanda specializes in a variety of fighting disciplines that require strength, agility and conditioning including Brazilian Jiu Jitsu, wrestling and sparring.  Amanda's passion for MMA fighting started when she began training with her husband, a big MMA fan, for exercise. She quickly got hooked into the discipline as well and discovered she really loved the sport.  Her future goals include continuing her training to ultimately work towards a black belt in Brazilian Jiu Jitsu (she already has a purple belt). Given her MMA experience, Robot Combat League felt like a natural fit for Amanda. She describes being on the show as a surreal, once-in-a-lifetime experience.  
ROBO-TECH
Name: Saura Naderi
Age: 30
Occupation: UCSD Outreach Director and founder of myLab Program
Hometown and Residence: Del Mar, CA 
Saura Naderi earned a degree in electrical engineering from the UCSD Jacobs School of Engineering and currently works at the university's Calit2 research institute. In her engineering career, Saura is motivated more by helping others than by a paycheck. She conceived the myLab Program to provide an environment where kids and undergraduates could informally gain hands-on, practical engineering experience while having fun. The first time she offered basic robotics and programming, she conducted outreach to low-income communities to diversify the pipeline for STEM, and was shocked to learn the low level of science they were being taught in schools. She then realized myLab program's true mission — to provide engineering-based projects where undergraduates and underrepresented youth work together to innovate. Saura also teaches summer high school courses on campus, inspiring youth to pursue STEM (science, technology, engineering, mathematics) fields based on her passion, intellect and ability to inspire and show kids how cool STEM really is.
Saura works with over 400 kids a year.  Her first group of kids came from the Town and Country Village Learning Center (TCLC). To inspire this population on many levels, Saura turned to the National Society of Black Engineers (NSBE) for support and is now the adviser for TCLC's Jr NSBE.  Saura was invited to speak at TEDx San Diego in 2011 to share her efforts to inspire passion in engineering and diversifying the STEM fields.
His fists are shaped like human fists.
He lasted the least time in the tournament, lasting less then a minute in his first fight.