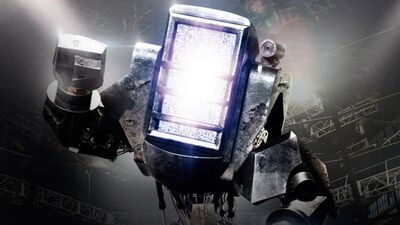 Game Over is a season 1 combatant of RCL.
Biography
Edit
The skin for Game Over is built using steel that has been "stitch"-welded together. In addition, Game Over features a 24" video monitor embedded in the upper torso. The screen is protected by a clear Lexan panel, and the roll bars are steel.
Strengths
Edit
Massive steel and polycarbonate body armor
Weaknesses
Edit
ROBO-JOCKEY
Name: Keisha Howard
Age: 28 
Occupation: Founder of Sugar Gamers, Professional nerd
Hometown and Residence: Chicago, IL
A gaming and geek culture enthusiast, Keisha owns her own company, Sugar Gamers, which advocates for women who share interests in gaming, geek culture and technology. Growing up closely with three brothers, Keisha freely admits that she's a tomboy who always found herself fighting for credibility. Now, she considers herself to be a superhero and hopes to positively encourage young women. Keisha craves real-life adventures and enjoys traveling, hiking and exploring the unknown. She is a driven, tough-as-nails competitor who wants to bring cool to the geek world.

ROBO-TECH
Name: Annika O'Brien
Age: 32 
Occupation: Robotics engineer
Hometown: Stockholm, Sweden
Residence: Los Angeles, CA
Annika was just eight years old when she started tinkering with electronics and programming in BASIC on a Commodore 64 – activities that set the stage for her to found the LA Robotics Club, a 1,000-member strong organization that she runs with pride. Annika counts Isaac Asimov as one of her heroes because he wrote about robots in a way that most people could not have conceived of back in the 1950s. Annika's biggest inspirations in life are inventor Nikola Tesla and her mother, an aeronautical engineer who taught young Annika to pursue her dreams, regardless of her gender. Although Annika has a very broad knowledge of robotics, her main focus is on building autonomous vehicles, small-scale humanoid robots, open source micro-controller projects and telepresence robots. She feels a kinship with robots and humanoids and feels sad when she sees a beaten up robot. 
He resembles Slenderman from Slender as both have static screens when approached.
He is the tallest robot, due to the large screen.