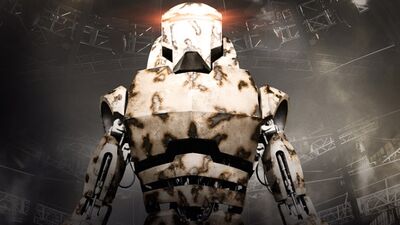 Drone Strike is a season 1 combatant of RCL.
Biography
Edit
Based on bleeding-edge military hardware, Drone Strike features stainless steel armor laminated with ballistic nylon in a digital camo pattern. The midsection includes shock suspended armor bands that completely encircle the critical valve and hose assemblies. The large multifunction head/turret pans and tilts, and the barrel weapons are devastating to opponents.
ROBO-JOCKEY
Name: Ciji Thornton
Age: 29
Occupation: Marketing consultant/pro gamer
Hometown: Dearborn Heights, MI
Residence: Oceanside, CA 
Known in the gaming world as "StarSlay3r," Ciji is one of the Top 10 multi-genre gamers in the world, competing both locally in small scale tournaments for fighting games like "Mortal Kombat" and "Street Fighter," and in large scale competitions such as the World Cyber Games and The Iron Man of Gaming. She is currently recognized as the highest, consistently top-ranking female Guitar Hero player in the world, placing Top 3 in the US for "Guitar Hero 3" and Top 5 in the world for "Guitar Hero: World Tour." Ciji picked up her first Nintendo controller when she only about four-years old, cutting her teeth on "Mario Brothers," and began gaming competitively when she was 15 years old, turning it into a career in 2006. As one of the most recognizable names on a short list of top female gamers in the world, Ciji has spent years fighting criticism and negativity to help raise the profile of women in the traditionally male-dominated industry. Ciji is actively involved in gaming-related charity auctions and raising money for organizations including Starlight Children's Foundation and Child's Play. Ciji was a contestant on the first season of Syfy's "WCG Ultimate Gamer" competition series.
ROBO-TECH
Name: Fazlul "Fuzz" Zubair
Age: 30
Occupation: Systems Engineer
Hometown: Torrance, CA
Residence: Carson, CA  
In a mere eight years, Sri Lankan-born Fazlul earned four degrees from University of California, Irvine – a Bachelor's in Physics and a Bachelor's, Master's and PhD in Aerospace Engineering. He is now a systems engineer at a company that specializes in defense and aerospace systems. Fazlul is a volunteer with FIRST (For Inspiration and Recognition of Science and Technology), a program that aims to inspire students in the science and technology fields, and is gearing up for the upcoming regional competition with his team, The Vitruvian Bots (Team #4201). In his down time, Fazlul enjoys role-playing and strategy games, ranging from "Starcraft" and "Diablo" to "League of Legends" and "Civilization," reading sci-fi/fantasy books and traveling with his wife.
He is the only robot that doesn't have fists.
He is the only contestant to have complete torso armor. This is compromised by the shallow armor crumple zone.
He has the record for the fastest win, beating Robo Hammer in 35 seconds.