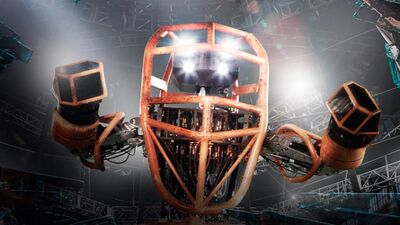 Crash is the season 1 champion of RCL.
Biography
Edit
Crash's shock-mounted roll cage can absorb high-impact attacks; its armor is lighter, but still offers good protection. Light and fast, this robot is ready for rough action.
Strengths
Edit
Weaknesses
Edit
Roll cage is hard mounted, does not absorb impact
ROBO-JOCKEY
Name: Amber Shinsel
Age: 24
Occupation: Software Engineer at Intel
Hometown and Residence: Portland, OR
Amber is a young software engineer who was excited for the opportunity to team with her father in Robot Combat League. She and her father have always been close; he taught her electronics and she grew up helping him out on a variety of technical projects (mostly his robots). She is a classical pianist that has been playing since seven years old. Her life was thrown a curve ball when she began to have kidney problems while attending college. Ultimately she had to have part of her kidney removed, but pressed on to earn her degree in Computer Science from Oregon State University. The experience taught her how to overcome serious obstacles and still achieve her goals, as well as how precarious life can be. Amber is engaged and will be getting married next summer.

ROBO-TECH
Name: Dave Shinsel
Age: 55
Occupation: Engineering Manager at Intel
Hometown and Residence: Portland, OR
Dave is proud to participate in Robot Combat League alongside his daughter, Amber, and the duo are determined to let nothing stop them in the tournament. Dave is an Engineering Manager at Intel Corporation with 29 years of hardware and software engineering experience. He holds two United States Patents on engineering designs. Dave has been building robots as a hobby for over 10 years and is a recognized leader in hobby robotics having penned several articles on robot hardware design and programming. He is the winner of the 2005 Seattle Robotics Robo-Magellan competition and was honored with a 2010 Backyard Genius Award from Popular Mechanics magazine. Dave is also the designer and builder of Loki, a robot that can respond to human commands, find and pick up objects off the floor, has facial and object recognition and several layers of artificial intelligence. Loki is considered one of the most sophisticated "hobby robots" in the world. Dave suffered from a bout with cancer that left him without full use of his voice, but he beat the illness and stands stronger today.
Team Crash is the only father-daughter team so far.
Crash has the most fragile arms of any robot in season 1. Despite this, breaking Crash's arms makes him more dangerous, considering the added momentum. 
Despite being called Crash, he shares some traits with Mega Man 2 boss Crash Man, both are combat robots, orange and have thick armor