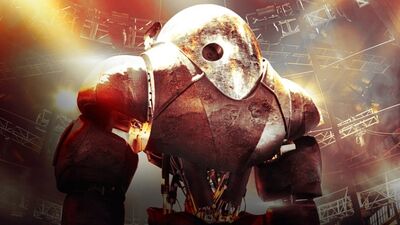 Brimstone is a Season 1 combatant of RCL.
Biography
Edit
Steel and leather are the materials of choice for Brimstone. The all-important brain/computer is housed inside a triple-thick hammer-finish dome that is three times tougher and heavier than the armor of any other robot.  The gleaming gloves and thug boots are made of the same heavy steel alloy.  For speed and agility, his arms and legs are protected by tough leather armor.
Strengths
Edit
Leather armor absorb hits
Weakneses
Edit
Exposed mid-section
Leather armor soaks up hydraulic fluid like a sponge
ROBO-JOCKEY
Name: Devonric Johnson
Age: 28
Occupation: Actor/Model/Motivational Speaker
Hometown: Terrell, TX
Residence: Studio City, CA
A street thug-turned-All-Star athlete, Devonric is now a model and motivational speaker. Born in prison to a drug-addicted mother, Devonric grew up homeless and lived on the street as a kid. But, with the help of a classmate and football, he turned his life around. Devonric played Division I football at Southern Methodist University, where he was an All-Star linebacker. A career-ending injury – post-concussion syndrome – resulted in his using his good looks and charm to segue way into the modeling world, doing runway at New York Fashion Week for designers including John Varvatos, Ralph Lauren and Oscar De La Renta. Devonric has also acted in commercials, theatrical performances and movies and was a contestant on VH1's Kept starring Jerry Hall. Devonric also founded the non-profit organization Brothers By Choice. He currently tours the country, talking to at-risk kids in hopes that his personal story will help them turn their own lives around. Devonric doesn't tolerate drama or inconsistent personalities and has no problem voicing his opinion.

ROBO-TECH
Name: Russell Tait

Age: 50 Occupation: Mechanical Engineer and Software Developer

Hometown: Brisbane, Australia

Residence: Los Angeles, CA
As a mechanical engineer, commercial diver and scuba instructor who also has explosives training, Russell definitely has technical experience covered. From an early career of underwater construction and heavy engineering, he has used computers for managing complex systems and now implements software solutions for some of the world's largest companies. He is currently developing custom electronics and software security solutions for iPhones and iPads. As a devoted family man, Russell enjoys helping his children with software projects, which often includes building robots. Quick on his feet and an excellent problem solver, he believes that if you are not part of his solution, you are part of the problem.
He slightly resembles Guts Man from Mega Man 1 as both are bulky.
He is the only robot from the top half to actually win their first fight.